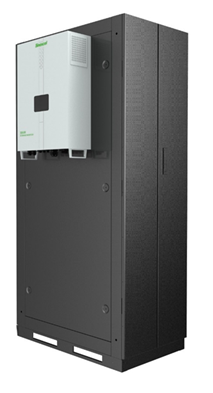 The Virtual Power Storage System vpSS is an integrated lithium-ion battery storage solution for commercial and industrial use.

Whether it's a grocery store, a warehouse, a hospital, or a distribution center, vpSS can provide energy for backup, demand charge reduction, time-based electric bill management, and solar electric self-consumption.

What it is
Our energy storage solutions provide integrated lithium iron batteries for business and communities. The power converters provide for plug and play functionality, removing implementation burden and reducing installation costs.
<STORAGE MODULE>
Save More & Protect Better
The energy storage module enables increased resiliency during power outages, greater power peak demand reduction, and energy shifting for maximum cost savings.

TIME OF USE
The batteries charge during low-cost pricing off-peak times, and discharge energy during costly peak times.

SOLAR SELF-CONSUMPTION
The system stores excess solar energy produced during the day for later use.

RESILIENCY
The system provides backup power during power outages and prevents business disruptions.

DEMAND MANAGEMENT
The system intelligently charges and discharges batteries to shave peak loads and reduce demand charges.
Want to learn more how it works and how we make the world a better place?